Aside from creating wonderful pieces of art that literally sparkles, diamond painting has a lot of health benefits.
Doing diamond painting, following easy instructions, you will quickly gain a rhythm that will put you into a calm state of mind. You will feel a sense of relaxation as you go along completing a design or a photo that you really like.
Seeing your design come together will also give you a sense of accomplishment and excitement.
Picking up diamond painting as a hobby will give you mental, emotional, intellectual health benefits and a wonderful dazzling creation in the end which will become a source of happiness.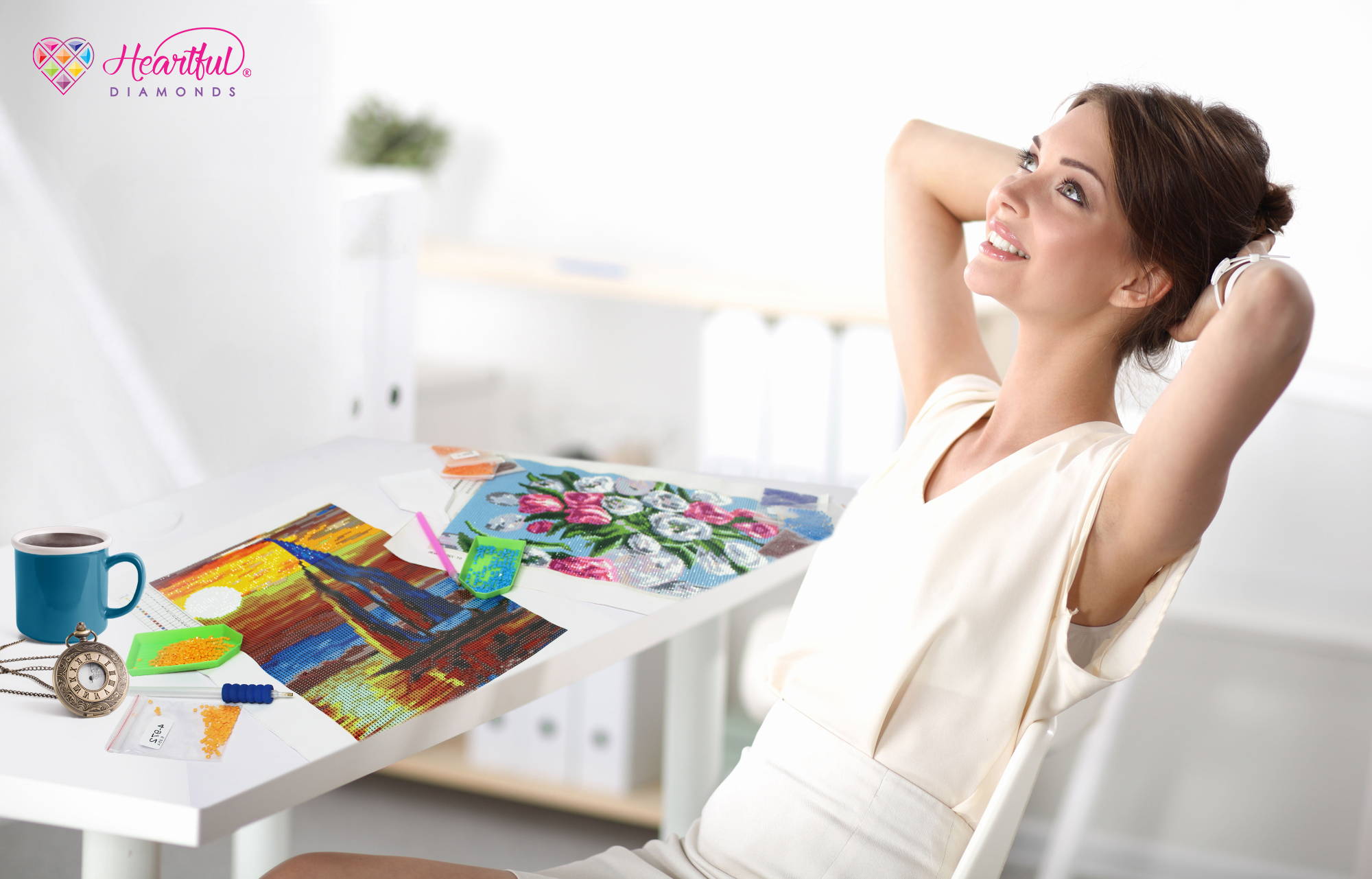 ---
Gives Relaxation and Peace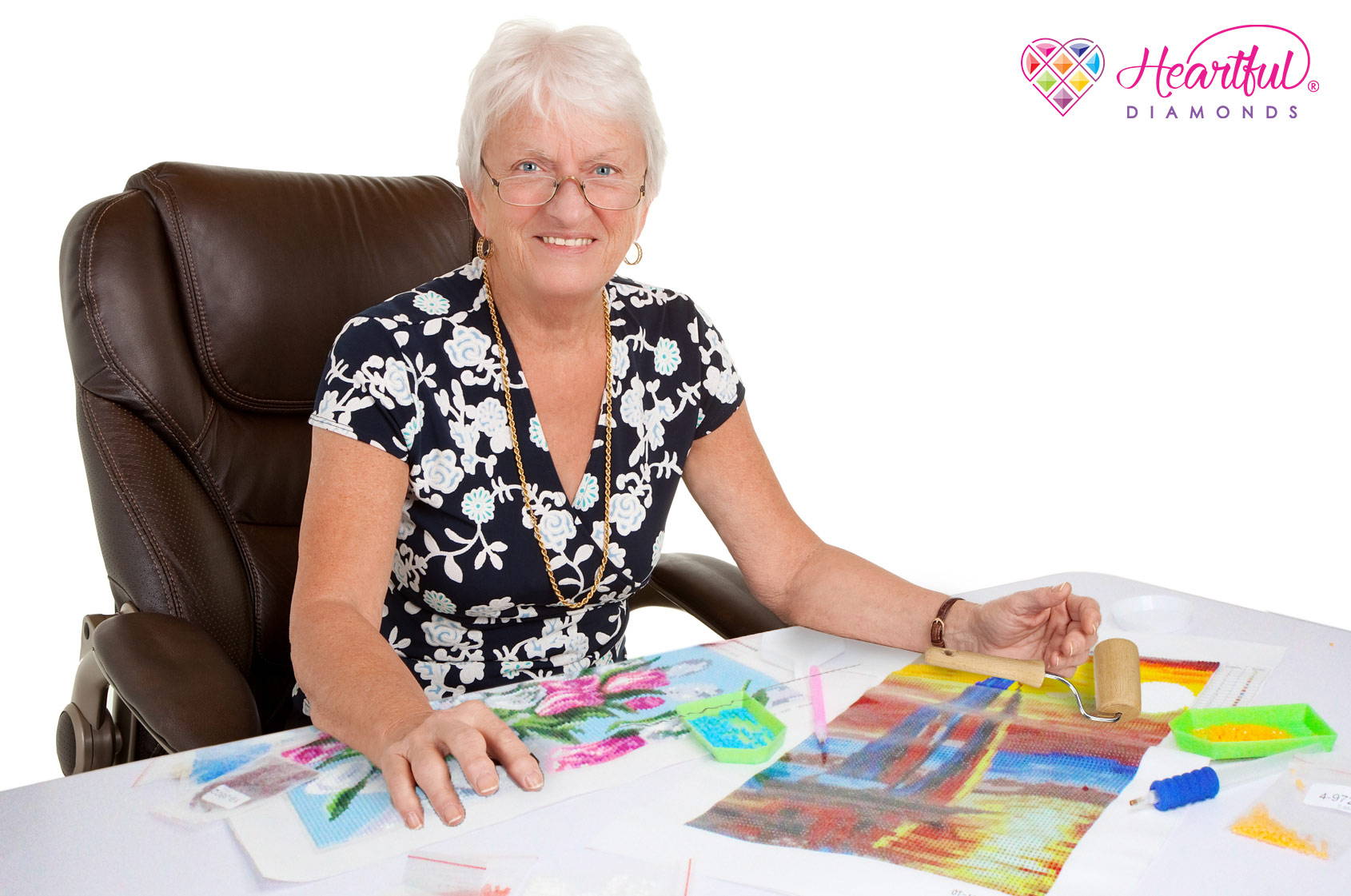 It's very important to have a time of relaxation, you need to take a break from your everyday stressors and anxieties.
Doing diamond painting acts as a breather from it all, it puts you in a calm state of mind as you focus on completing your design.

You will feel peace of mind as you put the diamond painting beads one by one or more at the same time (by using a multi diamond pick-up stylus) into the design pattern canvas.
You can also play around in putting the diamond beads by following a style like putting the diamonds into a checkered.

Horizontal or vertical stripe pattern into a large part that only needs one diamond color.
Going through a design that you really love, you will feel all of your stress magically fades away and it will be replaced with joy as you realize your design comes together.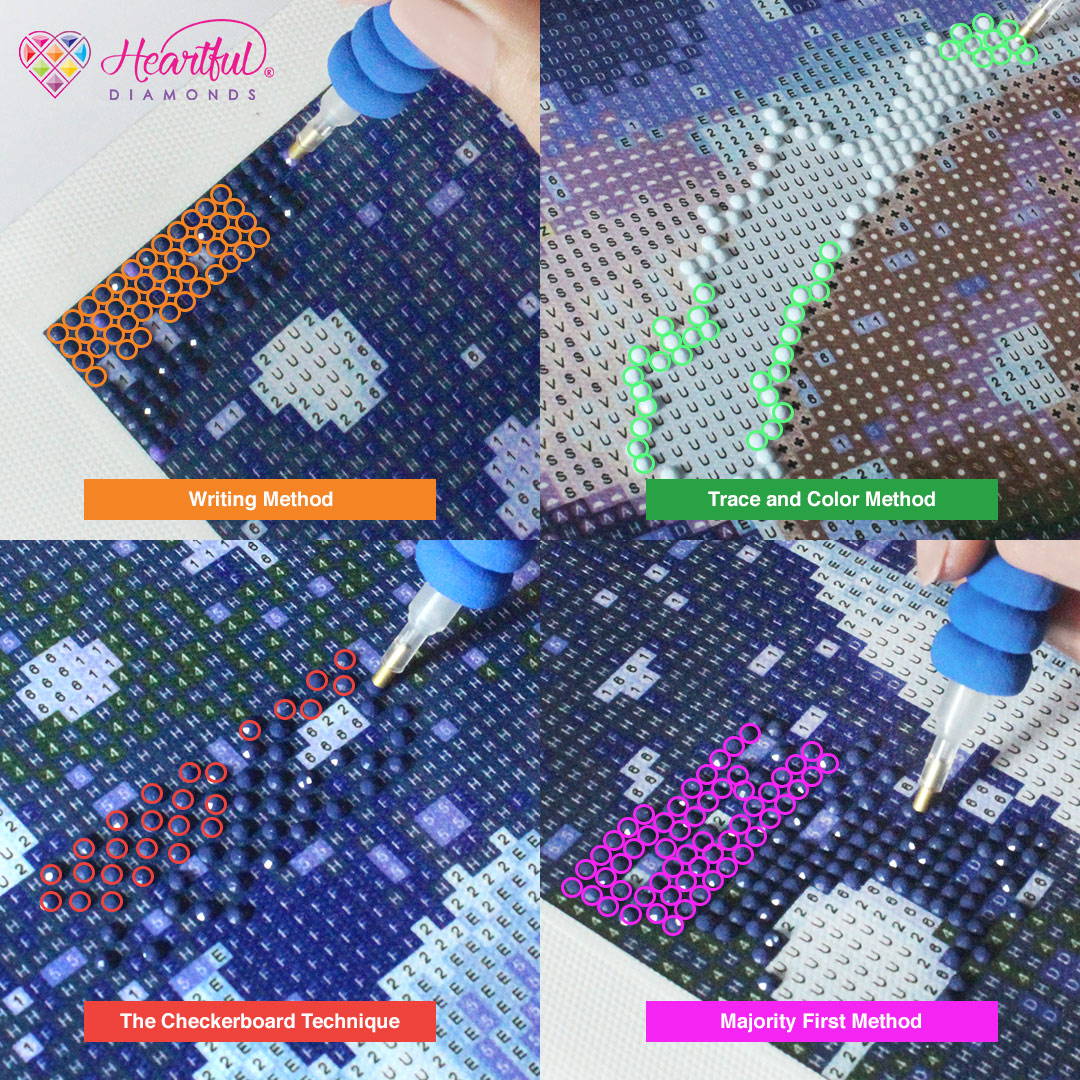 ---
It Gives Joy and Excitement
First, you need to pick out a design that you truly love, you can also order a custom diamond painting from a photo of a loved one or a group, like friends or family.
You can also search and get a design off the internet and submit it to be made as a diamond painting!


Diamond paintings are truly remarkable when you look at them as they sparkle and it gives happiness to the person that made it with a good feeling of accomplishment.
People who can't wait to show off their beautiful diamond paintings are always excited to share them with family and friends. It's a very good conversation piece too!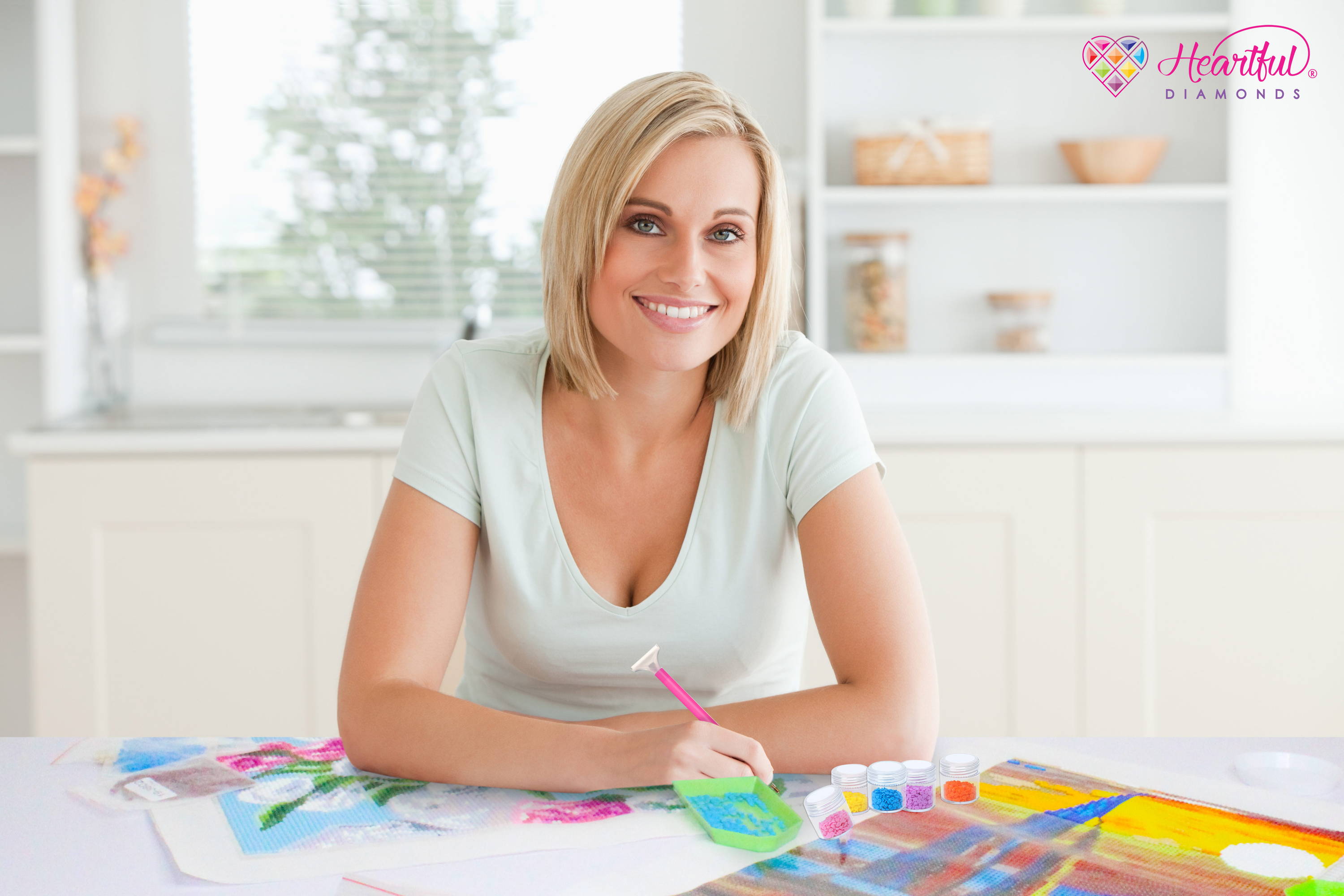 ---
Enhances Fine Motor Skills
As you go along completing your diamond painting, the bulk of it is picking up diamond painting beads that are small (about 0.25 to 0.28 cm).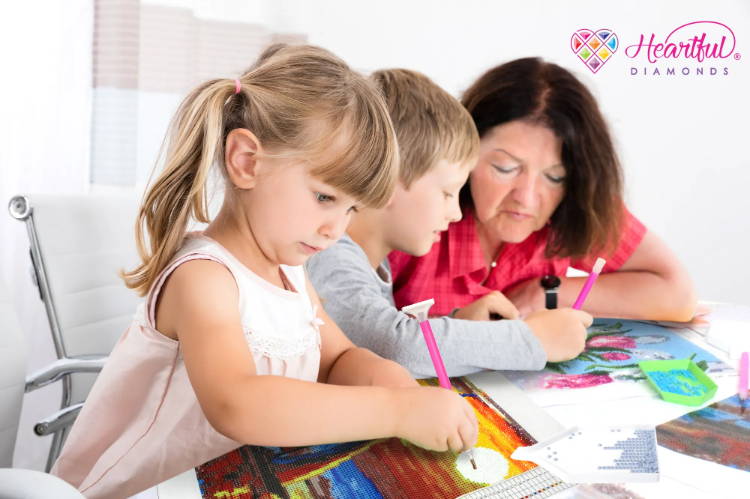 Diamond painting will help enhance your fine motor skills and help enhance good hand-to-eye coordination.
As you spend hours of fun and relaxation picking up the beads using a hollow tipped stylus (which should be included in your diamond painting kit) and placing them into its place in the design pattern.

---
Looking at your diamond painting canvas, it has a printed design pattern with symbols to know which kind and color of diamond to be placed there.
This makes you think of a strategy on how you go along in setting the diamonds on your canvas.


Diamond painting involves identifying the symbols on the pattern design to know what kind of diamond should be placed. So you familiarize yourself with the symbols and their corresponding diamond beads. It gently induce you in a state of mental focus in a calm way.
As you go along getting the right kind of diamonds after quickly remembering the symbols on the part of the canvas you're working on, you're gently exercising your mental focus.
---
Enhances Relationships and Increases Your Social Circles
Diamond painting doesn't need to be a solo act, it's a great way to bond with others too. It's a pleasant way to spend time with family or friends.
Invite someone to do diamond painting together
Imagine doing a diamond painting with someone and you talk about how you will go along with it, then, you talk about other stuff. You're strengthening your relationship while doing something amazing!
You will also keep precious memories with that someone who helped you finish your diamond painting.

Here's a great idea, get 2 diamond paintings with the same design and give the other one of your closest friend and spend time working on your diamond paintings together!

---
Do a Diamond Painting with the Kids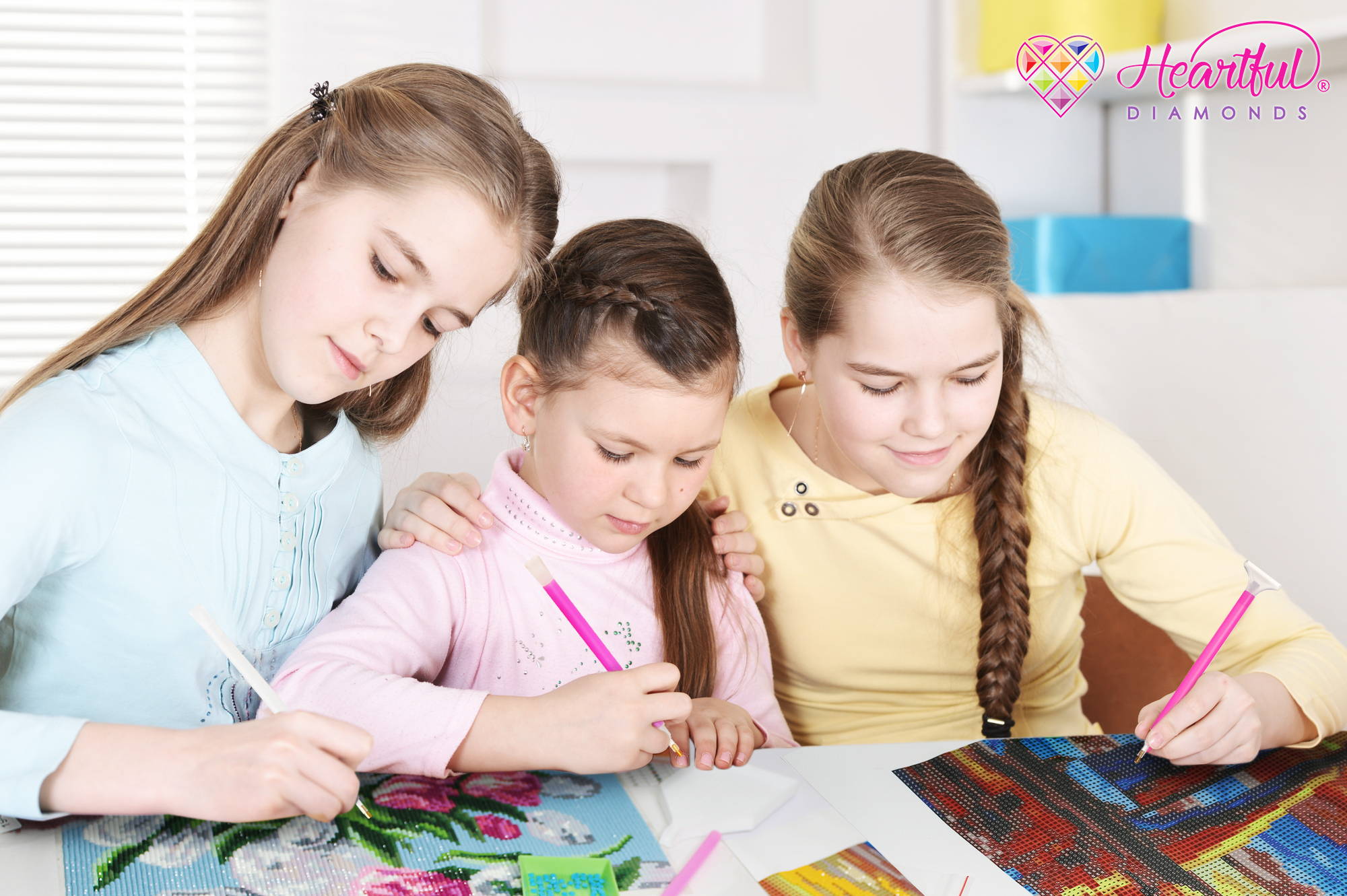 Kids will love diamond painting! Especially if they are familiar with the design they will be working on.
Kids can also get the other benefits in doing diamond painting like mental focus, enhance fine motor skills, improve hand-to-eye-coordination and many more.


Kids grow so fast, so you want to spend a lot of time with them as much as possible. When it's time for them to "leave the nest" you can give the diamond painting your shared completing to remind them of the times you had fun and how much you love them.
Diamond painting is also a great way to get your kids' attention away from gadgets and technology.
---
Nowadays, it seems like technology is being used unconsciously for personal disconnection rather than getting truly connected with others.


So get your kids involved for a meaningful family bonding time by doing diamond painting, once your kids get the hang of it, they can have a conversation and bond with the family while placing the diamonds.
They can help in other ways like getting the diamonds in line on the tray for easy pick up by anyone.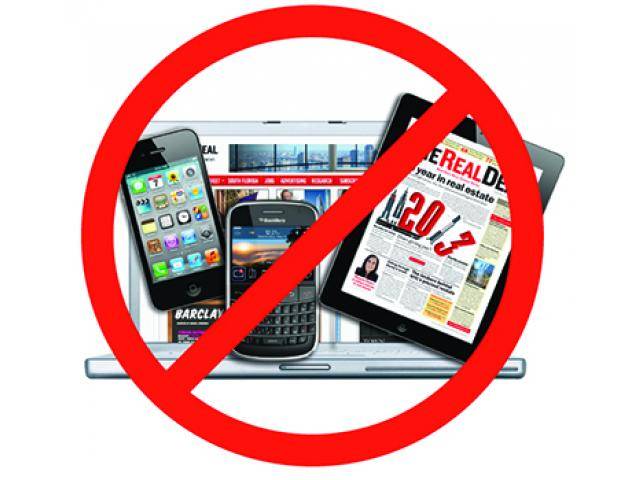 ---
Join a diamond painting community in person or online
There are a lot of diamond painting clubs out there in person or online. This is a great way of meeting new friends with the same interests as you do.
You can go online on social media networks like facebook, twitter, Instagram and many others. You can easily search for a diamond painting group or club.
This is a fantastic way to make new friends, share your precious diamond painting collection, pick up some diamond painting tips or help others.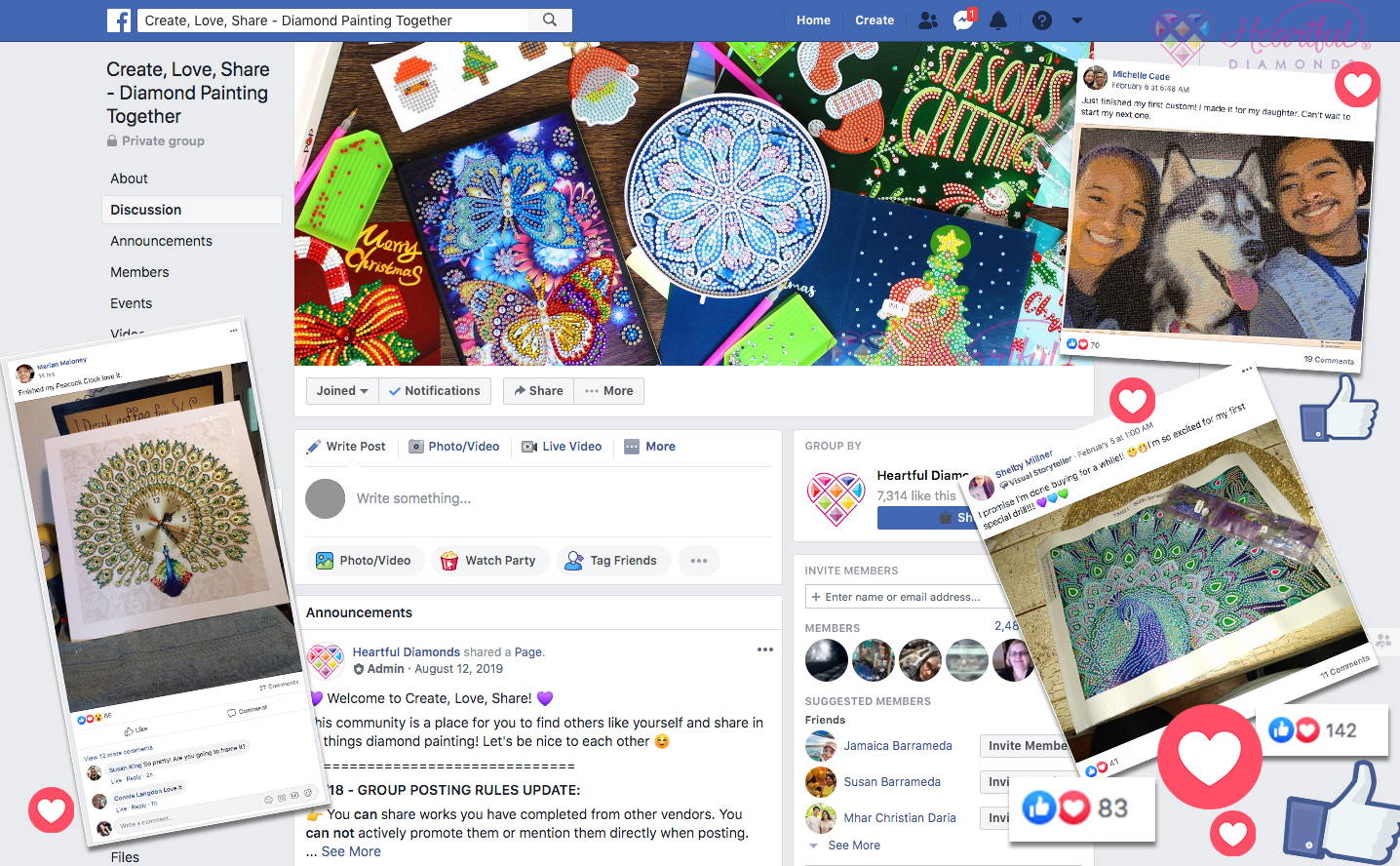 You can join a diamond painting club in person too, although it might be easier to find an online one.
But hey, if you can't find one then start a diamond painting club in your area and create more social circles that you have something in common!
A pleasant way of remembering someone is by looking at a diamond painting and recalling the wonderful memories that you shared with that someone who helped you finish it.

---
Giving a Finished Diamond Painting as a Present
Would you like someone to love you more? Order a custom diamond painting and create a diamond painting design from that special someone's photo! and make sure they like the photo too! Haha!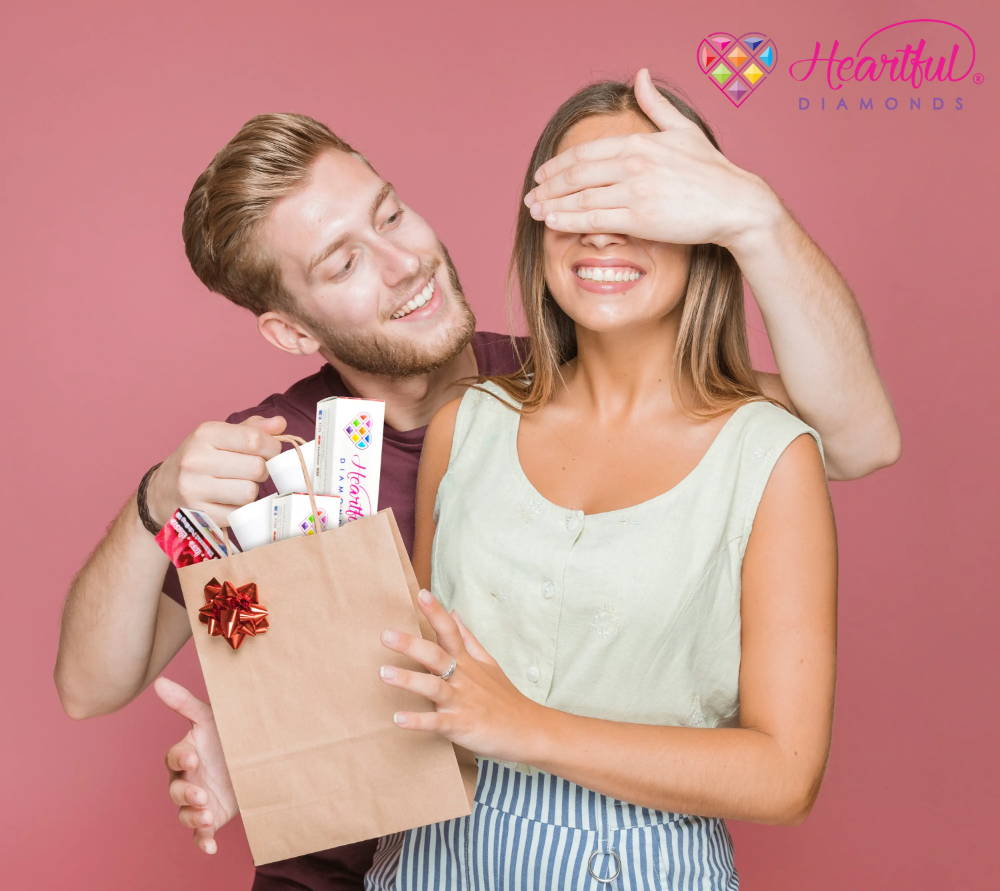 Imagine, getting a diamond painting gift made from your photo or something that you love, Isn't that something? Wouldn't your heart melt? Yes, you will feel loved and appreciated.
Giving someone a diamond painting, especially if it's their loved photo will surely say how much you loved them.
It's a very special gift because you worked on it with your own hands and it sparkles!
---
Make a Diamond Painting of Your Beloved Pets
Now don't forget about our pets with or without fur who gives us joy and company.
Usually, we outlive our pets so it's an adorable way of remembering not just from memories or photos but with a twinkling diamond painting.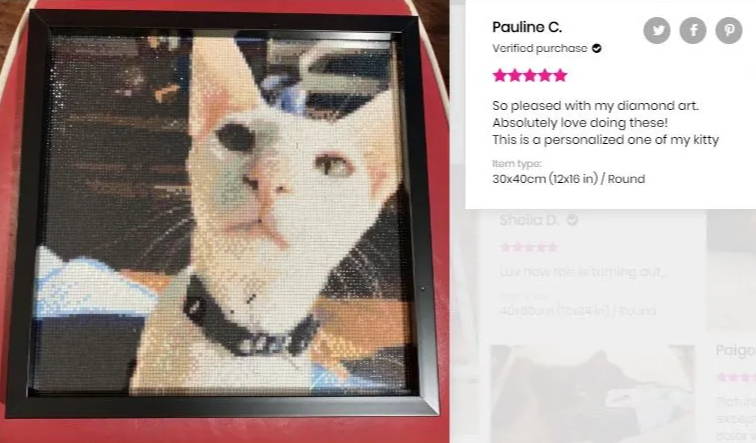 ---
Diamond painting helps promote your creativity. Sure, you're just following instructions in putting in the diamond painting beads but there are parts of it that need creativity.


When you're starting with a diamond painting design, you need to be creative in how you're going to go along with it. You need to get creative in how you would like to finish your designs especially if it's a large one.
You can be creative in your plan on which diamonds you want to place first or which part of the design you would like to do first.
For designs with faces or focal point, diamond painting hobbyists tend to save them for last, saving the best parts for last.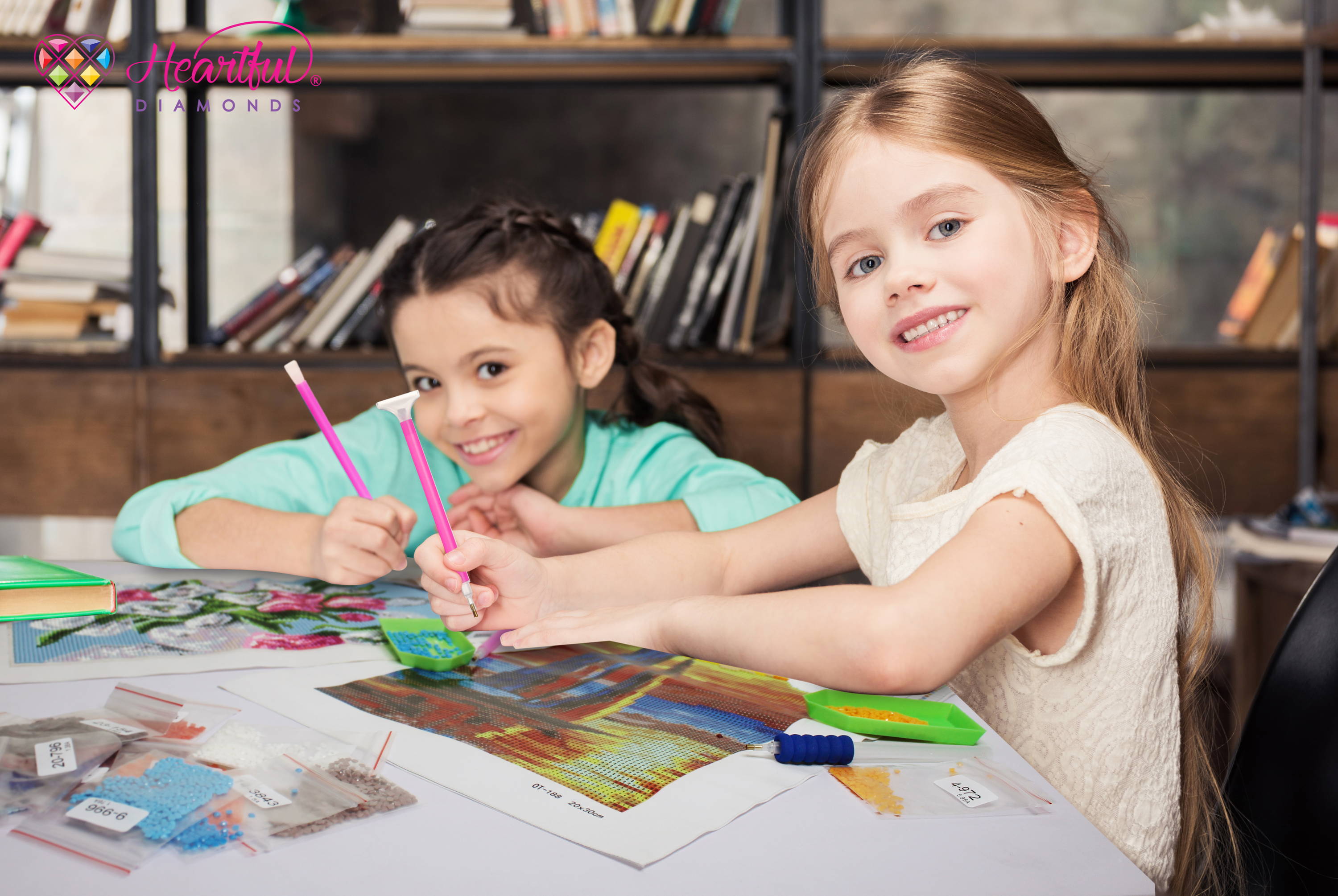 ---
Diamond painting is very easy and fun to do, you don't need any special skills or extra knowledge to finish one. Read an article about how easy it is to do diamond painting.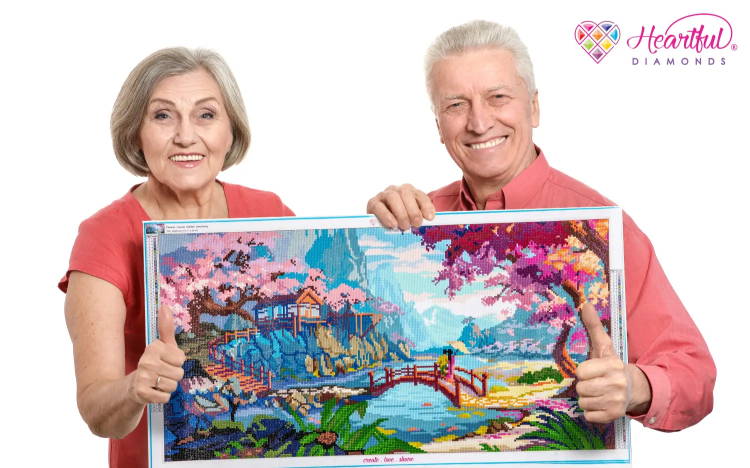 Diamond painting gives a boost of confidence because it's very easy to do and the results is a stunning work of art that sparkles that you can absolutely be proud of.
Show off your completed diamond painting and let your family and friends be amazed, they will think you're awesome for making it.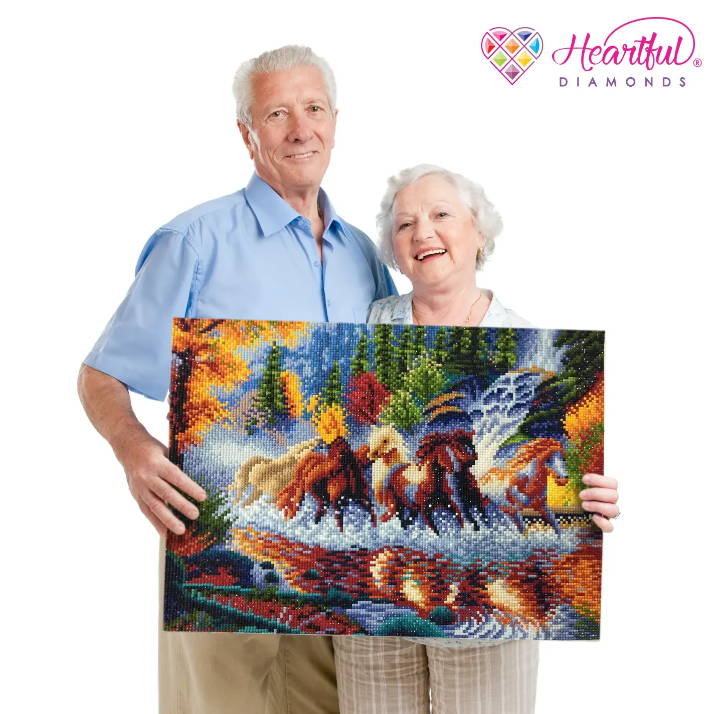 You will definitely feel proud after completing a diamond painting, there's just a feeling of great accomplishment.
Seeing your labor of love hanging on the wall, you will definitely feel proud of yourself as your family and friends give you compliments for creating a wonderful work of art.