Get paid royalties for sale of your artwork in our products.
Automatically receive an income on every sale that you make, on designs created and submitted by you.
Heartful Diamonds is accepting submissions for:
• Original illustrations of landscapes, characters and abstract concepts.

• Original photographs of landscapes or animals. Composites and photoshopped images are acceptable.
Heartful Diamonds will not accept:
• Illustrations, artworks or photographs where you are not the original creator.

• Any illustrations where the subject matter contains graphics of an overly violent, sexual or offensive nature.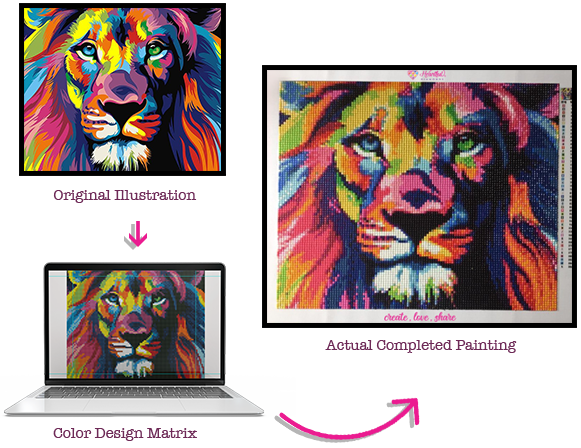 STEP 1

LICENSE WORK
Your artwork or original photo is licensed to us to use in our design catalog.

STEP 2

WE MAKE IT A DIAMOND PAINTING
Our internal teamworks their magic to turn your submission into a gorgeous diamond painting color matrix/scheme.

STEP 3

Your design is live on the store
We produce and print your canvas, then list your design on our store for customers to buy.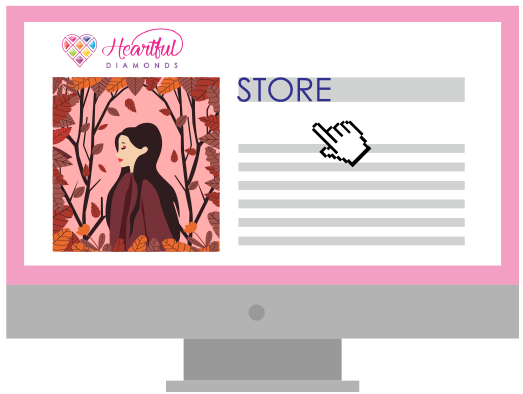 STEP 4

Get paid for every sale
Every time a sale is made on a design licensed by you, a royalty is paid to your account.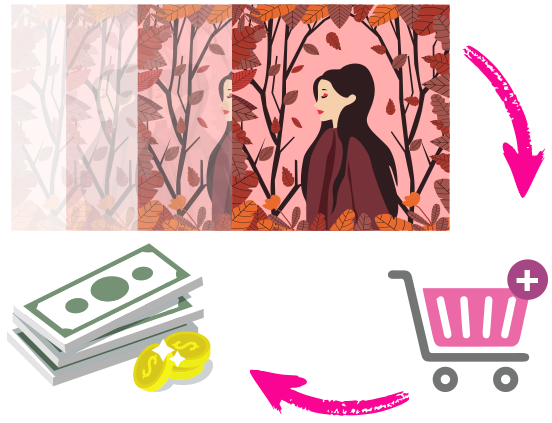 USE THE CONTACT FORM IF WE HAVEN'T HAD A CHANCE TO TALK
If we've already been in contact, you can skip this step.
Otherwise, please leave your details in the form at the very bottom of this page. Our VP of sales will be in touch within 1 business day.
AFTER YOUR WORKS ARE APPROVED FOR SUBMISSION
• You will be asked to digitally sign a contract acknowledging your agreement to allow us to use your works in our prints.

• You should read all of the terms in the agreement carefully and sign the document within 3 business days.

• We will then provide you with a special link to our partners portal.
EASILY CHECK COMMISSIONS OWED WITH YOUR PERSONAL PORTAL
This is where you can log in at any time to check your sales, commissions owed and upcoming or past payments.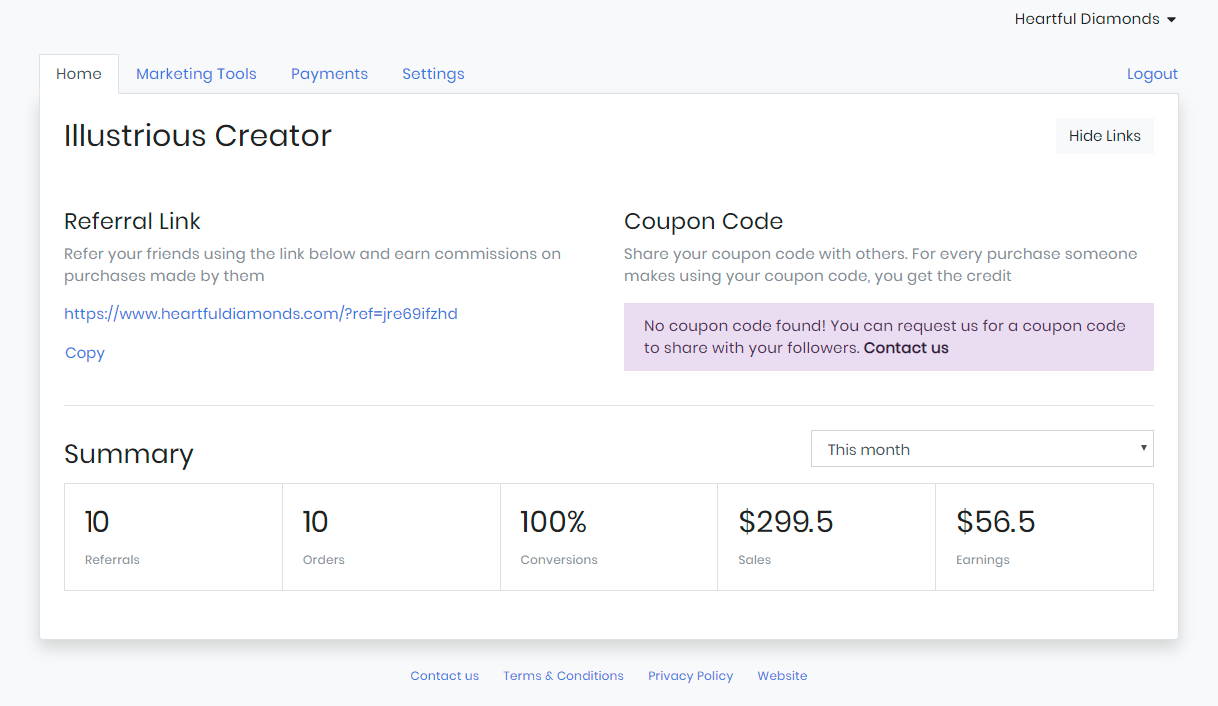 Check commissions earned by logging into your personal dashboard
to qualify for the early launch bonus



Fine print:
• 20% Commission will be valid for 30 days from the time you receive your first commission.

• After 30 days, your commission rate will revert back to "Founder" tier which is a rate of 15% for a minimum of 90 days.

• Commission is applied to revenue earned after discounts, excluding taxes and shipping.
Q. How does Heartful Diamonds know when I should get royalties for a sale?
A. All designs uploaded by you are stored in our database under your unique partner ID. When a sale is made for a product using your design, your partner account is immediately credited with owed royalties as per the contracted rate. Once you sign up to our program you can view your account dashboard and check your earnings at any time.
Q. When and how do I get paid?
A. Payment cycles occur once every fortnight to your Paypal account. We currently only support Paypal payments, so in order to receive your payment you must have recorded a valid Paypal account.
Q. Can I get a preview of what my submissions will look like?
A. Yes! You can either use the form above or contact lukas@heartfulcrafts.com with a high quality sample of your work and we'll get back to you with a digital preview.
Q. How do customers find my designs on the website?
A. We will feature your designs in our marketing content such as social media ads, search ads and emails. The theme of your design is categorized and sorted into collections which are easily accessible by customers with an interest in that theme.
Q. Is there a cap on earnings?
A. Currently there is no cap on commissions earned with us :)