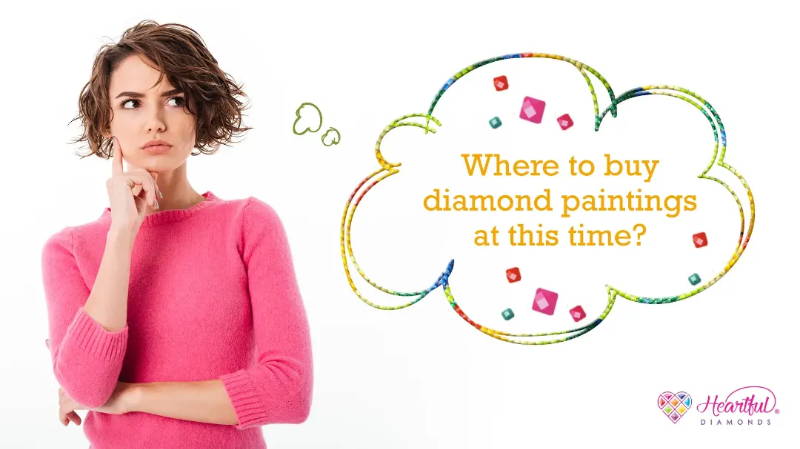 ---
This announcement applies to US Residents only.
Starting the week of APRIL 20, 2020: Heartful Diamonds can offer shipping for all standard full drill diamond paintings kits from the USA.
Please note, this option must be selected at checkout (choose USPS Shipping) and incurs an additional fee. Even if you don't order it from the USA with us, rest assured, you are not being left behind.
We have switched to a high priority international carrier in response to the recent slowdown in delivery times. Rest assured, we are monitoring deliveries closely and your package is still on its way. Please contact us via customercare@heartfuldiamonds.com if you have any concerns.
We still ship most products worldwide from our manufacturing facilities in China. We guarantee the quality and delivery of all products sold to all customers.
---
Where are you buying your diamond painting kits right now?
"Finally, a place to buy DPs that don't take months to arrive" - Frustrated DP hobbyist
Interest in diamond paintings is reaching new heights. They have been a lifesaver for many of our customers who need something fulfilling and relaxing to do while staying home.
However, it's time to seriously consider where you're buying your next kit from.
The COVID-19 outbreak has not made it easy to move products around. That means everything is getting delivered a lot slower.
Especially if they're being shipped from China via e-packet USPS (not to be confused with USPS Priority or USPS First Class - both of which are USA domestic couriers).
So if you're still purchasing the cheap kits from sites such as Aliexpress, Ebay, Wish (100% of these kits are sold by merchants of varying reputations) or even from most so-called US based websites... you could be taking a huge risk.
That's because most DP kits that ship from China via e-packet USPS are taking 6-8 weeks to be delivered.
And some of them never even arrive at all!
What's more, in these uncertain times, most sellers won't play nice -- once they've shipped your order, they've also washed their hands of all responsibility because... it's a pandemic.
(On the other hand, we guarantee all deliveries or your money back - regardless of where we ship it from. We just need to allow a bit more time for the goods to move).
We've been feeling your pain for a while now. There's been a lot of emails and chat messages. And so, we've been taking action for the past several weeks, and had to make some serious changes.
Yes we also ship packages from China, but we now use an upgraded priority carrier.
That means at most you should be receiving your packages within 2-4 weeks. This applies to all of our standard diamond painting kits and replacement drill orders. Products that are not in these 2 categories will be a bit slower.
However as we've mentioned, regardless of the shipping method, Heartful Diamonds guarantees the delivery and quality of all products sold on the site. You'll hardly get that anywhere else!
Can you afford to wait 8 weeks to get your diamond painting kits?
When you buy a diamond painting kit from Heartful Diamonds, you can get it from within the United States.1
Once shipped, your purchased kits are on your doorstep in just 1-2 weeks.
Our mission is to uphold the premium level of customer service you've come to expect.
There's no better time than now to be relaxing in your own home with a batch of diamond paintings waiting to be done.
And there's now no better time to make sure you only buy from reputable sources.
Heartful Diamonds is a trusted brand based in USA and Australia. We will always go above and beyond to look after our customers.
How to tell if you're buying from a reputable source?
One of the biggest giveaways is this -- how transparent is the merchant or shop you're buying from regarding the delays?
If they haven't even bothered to make any mention of products from China literally arriving 3-4 times slower than usual, what else are they hiding?
We can guarantee you this: if they don't say where they're shipping from, it's going to be a very, very long wait.
It's becoming increasingly harder to get products into the USA, especially for things that don't directly help with COVID-19.
Now's not the time to be taking chances.
We can't promise we won't run into shortages. Many super popular designs are already stocked out and have gone on pre-order.
Many experts on the matter predict that it's still risky to go out and about for months to come.
Now's the time to build your stash! Click the button below to browse our collection.
You must make sure you purchase items from this category to ensure you receive US stock!
Happy shopping and stay safe!
1In the rare event that we have no stock for a product that you paid USPS Shipping for, you get FREE express shipping from overseas. Not all of our products ship from the USA (we clearly label those that don't).
---
Featured products that ship from the USA
---