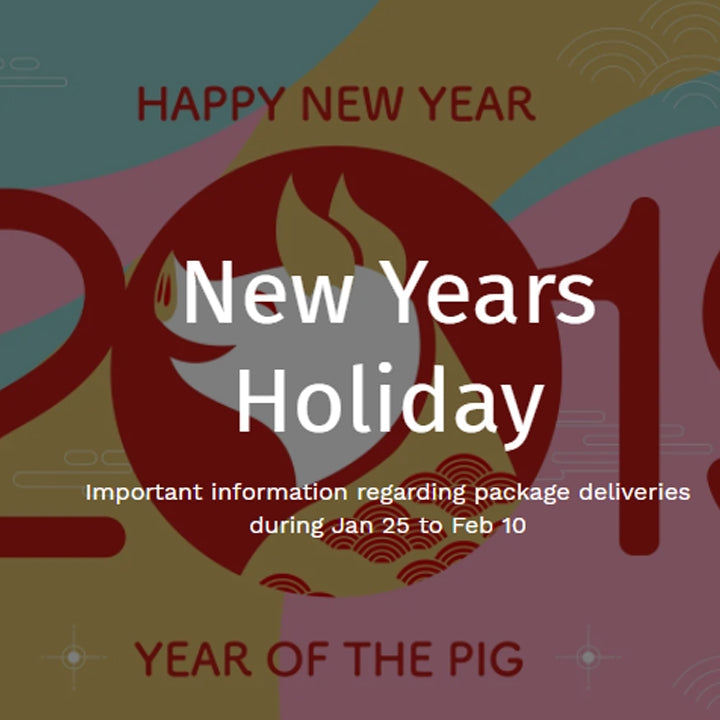 Important information regarding package deliveries during Jan 25 to Feb 10
We are welcoming the 2019 Lunar New Year!
All orders placed on and after January 25th (01/25), may be delayed by up to 3 weeks. Our shipping partners are taking a well-deserved break and will be back in business (and in better shape than ever!) on February 10 (02/10). We will be accepting final orders up until midnight January 24th (EST).
To make up for the delays, we wanted to give something back to our customers for their patience and support to make Heartful Diamonds what it is today. During the brief period where our fulfillment centers are offline, all orders will qualify for an additional 30% off at checkout. Read on to find out more.
Psst! There's an unmissable coupon code at the bottom of the page!
---
What does this mean, and why are operations pausing?
As our loyal fans know we carry the largest variety of diamond painting designs out of all our competitors, including 1 million+ Print-On-Demand designs. We're always first to market with new and exciting products and you've been able to experience this in the form of our awesome LED paintings, Christmas Cards, Jewel and Frame Encrusted designs and more.

In order for us to provide you with amazing products at affordable prices, products are packaged and shipped by our trusted manufacturing partners in China, who we consider to be the absolute best in the business. They cooperate with us in Research and Quality Control, and work around the clock almost every other day of the year (including weekends!) to package and ship your products out in a timely manner. For many of our partners and fulfillment champions, these 2-3 weeks are the only time they have each year to visit their families who live far away from the big cities!
You may have experienced shipping delays since Christmas.
Some orders that took place around Christmas time may still be facing delays as your domestic postal systems are warming back up. Meanwhile, the Chinese postal systems are already winding down in anticipation of their long awaited New Years break. These 2 events are causing postage delays outside of our control.

Nevertheless, we do humbly apologize for all affected customers and gratefully ask for your patience. We promise shipping times will return to the standard 12-20 Days soon after the break. At Heartful Diamonds we are always conscious of transit times and do everything within our limits to lessen the wait.
---
Orders placed during Jan 25 - Feb 10
Orders can still be placed on the website during the period between Jan 25 and Feb 10. All orders placed within this time frame will be back-ordered; your items will be placed in a queue to be fulfilled immediately once staff become available.
To thank our customers for our patience, we have a limited time bonus if you place your items area back-ordered during this time. If waiting a bit longer isn't an issue for you, we've got some great news - simply use the coupon below at checkout, and you will get 30% off the whole order at checkout*. There will be clear notices on the store when this is in effect. It's the perfect opportunity to grab your favorites at an absolute steal! This is a HUGE discount we're only making available for a limited time to thank all our customers for their support!
---
PROMO CODE
THANKS2019
Get 30% Off Your Cart at Checkout.
Unlimited Uses. Orders will be fulfilled after February 10.