Decorate your wall with DIY Diamond Paintings





An Introduction: What is Diamond Painting?
Last updated: August 14th, 2018
Diamond Painting: What is it & How to Get Started
Diamond painting is a beautiful new art form that is allowing people of all skill levels to create magnificent sparkling canvases for enjoyment, display, or anything you desire. This art form is a relatively new craft, especially for countries outside of China and Northern Europe.
Painting with a diamond kit is simple and perfect for anyone looking to pick up a new artistic hobby. Starting a new hobby can be overwhelming sometimes. Everything seems foreign and you never know if you're on the right path. New hobbies should be exciting, not discouraging. That's why we made this post.
We'll lay out everything you need to know about diamond painting from the supplies to the best beginners' diamond painting techniques. Here's everything you need to know about diamond painting and how to get started:
What is Diamond Painting?
A very common question when people first fall upon this new craft. Diamond painting is the contemporary art of gluing shimmering rhinestones, called "diamonds" to a canvas to create a gorgeous picture. The end result is a piece of art that shimmers just like diamonds. Similar to a paint by numbers, you glue diamonds to a canvas by following a color guide. Simply apply glue to the diamonds and stick them on the canvas in the designated area. This guide produces a twinkling colorful piece that you're sure to be proud of.  
Popular canvases feature landscapes, animals, custom photos, pop culture references, abstracts, fantasy worlds, flowers, religious scenes, and nature. There's endless opportunity to create a dazzling piece.
Diamond painting is a simple, easy hobby that is perfect for relaxing. It's straightforward and great to complete by yourself or with the help of your children. We don't recommend diamond painting for young children. The small rhinestones can be swallowed by small children and pose a large risk to their health. Please enjoy diamond painting with responsibly aged children.
So now that you know what diamond painting is, you're most likely wondering how you can dive in?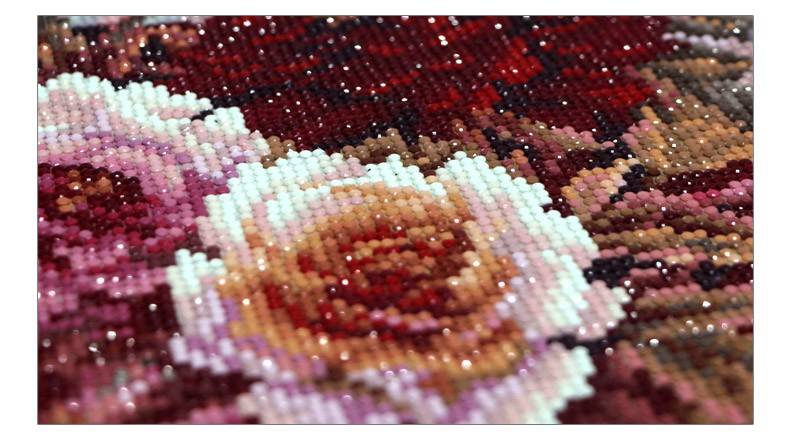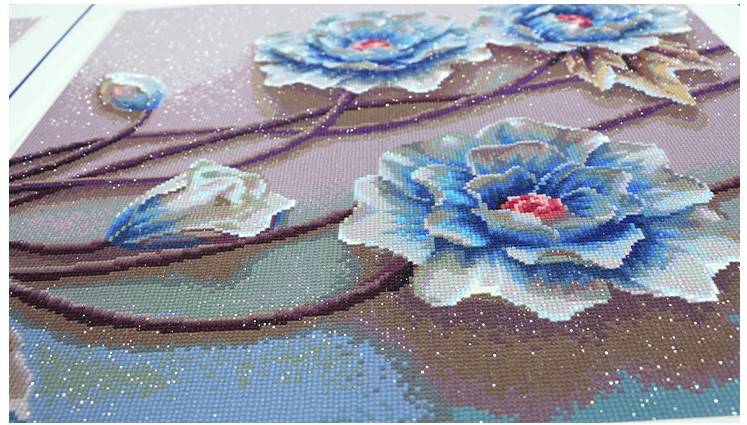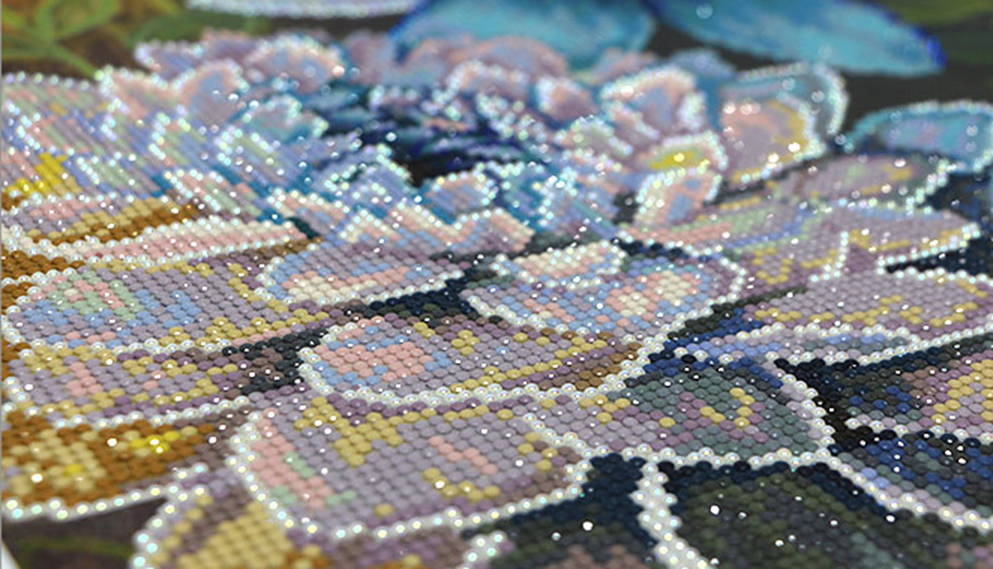 Flowers are a great starting point, but there are many hundreds and even thousands of themes and designs out there!
Is 5D Diamond Painting and Cross Stitch the Same?
While both 5D diamond painting and cross-stitching are very similar, they are two different techniques that achieve similar results. Cross-stitching simply uses fabrics stitched across a canvas, while diamond painting uses a pattern of glued diamonds.
The results are a lot alike, and both can be equally beautiful, but diamond painting is far less time-consuming than cross-stitching that relies on a more meticulous crafting process.
How Does Diamond Painting Work?
As we've said before, diamond painting is easy. With a few simple steps, you'll be a pro in no time.
Diamond painting is just like paint by numbers. You follow a guide and produce an artistic beauty in the blink of an eye. So, here's how to do exactly that:
Step 1: Find the Perfect Diamond Painting Kit
There's plenty of options for DIY diamond painting kits available today. Heartful Diamonds has a vast variety of kits to choose from. It's as easy as picking out a canvas you like and placing an order. Look for a canvas that matches your personality. Paint something you're passionate about. Get creative.  
Your kit will come with all the supplies you need in order to become a diamond painting pro. Your kit will include:
The packaging box. The entire kit is packed tightly into one of these padded boxes and shipped to your door.
Textile canvas with the picture you choose. Your chosen reference picture is printed on the canvas in the form of coded squares or circles.
Packets of "diamond" rhinestones. Generally 15 to 60 colors per kit. You should always have sufficient diamonds to complete a canvas, with some excess just in case.
Hollow tipped stylus. The standard equipment of choice for picking up diamonds. There are optional accessories that can be purchased to improve your efficiency.
Ridged tray and flat stick of glue. This is the the "pallet" where you will want to pour the diamonds that will be glued on to the canvas.
If this looks like quite a list, don't worry. Every kit purchased comes with the selected canvas plus all of the required tools required to complete it.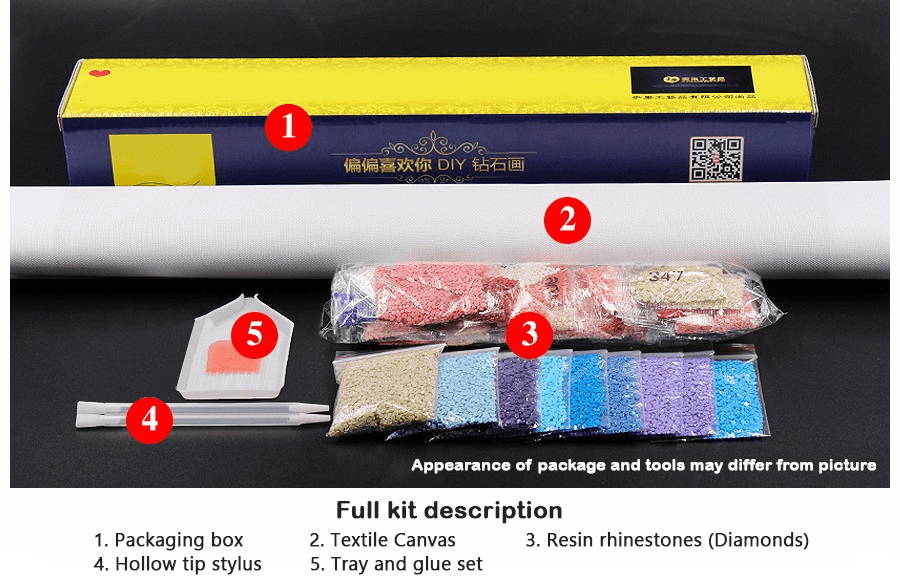 Step 2: Get Organized
Once your diamond painting kit arrives, it's time for the real fun to start. Clean off an area so you have plenty of space to work. Spread out your kit and make sure all the utensils are included. Every piece stated above is crucial so don't get started before you have all the pieces.
Go over your color code so you have an idea of where you want to start. It's like reading a recipe. You want to know what you're getting into before diving in. Take an approach that you think is best for your artistic style.
Lay out your canvas, diamonds, color guide, glue pad, and pen in a way that will benefit your artistic flow. Open your first diamond packet and spread them out in a tray so they're easy to pick up and press onto the canvas.
Step 3: Get Gluing
Now it's time to get down to business. Peel your canvas cover off so you have access to the direct canvas. Be careful, the canvas is very sticky! Take your pen and press it into your glue pad. This gives your pen a sticky tip so you're able to pick up diamonds easily.
Next, pick up the diamonds one by one, and press the diamonds onto the designated color-coded spot on the canvas. Since the canvas is extremely sticky, the diamonds will stay put no problem.
Repeat this process until you have a full and dazzling diamond painting.
Step 4: Secure your Painting
The last step of your completing your artwork is to secure your diamond painting in place. Once you've finished applying all your diamonds, press down on the painting to ensure that all diamonds are stuck in place.  
Forgetting this step might cause you to lose pieces of your diamond painting. Securing your canvas will guarantee that every diamond is perfectly in place.
Step 5: Show it off!
Now that you have a beautiful diamond painting, show it off! Frame it, display it, show your friends, show your mom, show everybody. Diamond paintings can accentuate and bring life to any room. If you're feeling generous, maybe give it away as a gift.
Diamond paintings are so stunning that they deserve to be displayed. Show off your hard work! You earned it!
That's pretty much everything you need to know to get started diamond painting right now. New hobbies are sometimes intimidating but getting started is easy with these 5 simple steps. Just choose a kit, get organized, glue, and secure. Nothing intimidating about that!
Workspace is ready: A snapshot of the workspace of an avid Diamond Painter about to continue her great work. Pillboxes are used to cleanly store the rhinestones.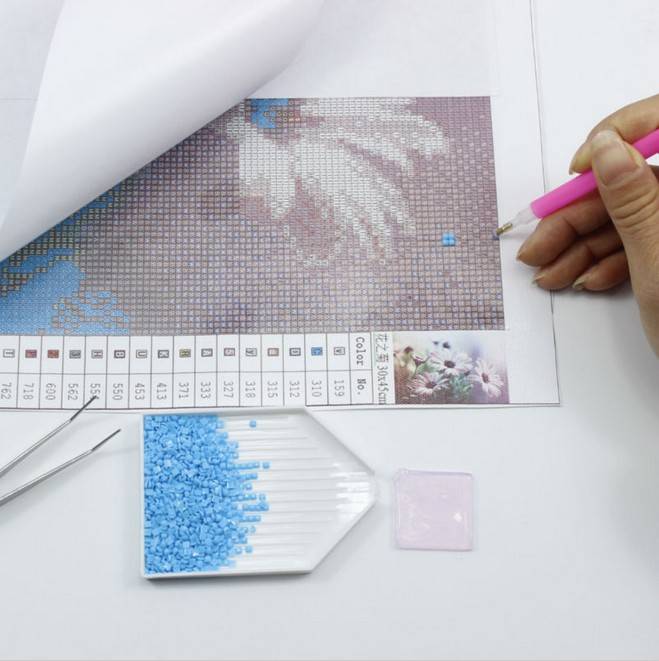 Placing the first diamonds: The beginning of a beautiful journey. This Diamond Painter has chosen to start off by placing all of the blue colors.
Watch the quick 60-second video below to see what it's all about!
Diamond Painting Techniques and Tricks
To keep the diamond painting process smooth and simple, here are a few tips and tricks to help you out:
Glue or Tape Diamonds Next to Symbols on Canvas
This provides you with an even easier reference to find the diamonds you need in addition to the guide that's already included.
Mark Your Diamond Bags with with Symbol or Number Using a Marker
Kits already come with Ziploc bags to help you sort your diamonds, but you can also include the number and symbol to further assist you when putting the painting together.
Use an LED light pad
You can place small sections of the workable canvas on a brightly lit LED pad. This illuminates all the symbols on the page, perfect for when you're finding it hard to see what they are. We have one with up to 4 different types of international electrical plugs (US, UK, AU, EU) right here.
Flatten the Canvas by Placing It Beneath Your Mattress
This may seem odd, but an effective way to flatten your canvas without damaging it is to place it under your mattress and simply sleeping on it overnight.
How to Frame a Diamond Painting
Here's a brief guide to help you frame your finished diamond painting, so you can showcase your work once it's done.
Get a hard canvas that's large enough to contain the entire painting.
Use a frame that's compatible with the canvas.
Sit painting on and glue it to the canvas, and use decorative craft tape as a matte if it doesn't fit squarely on the canvas. Use a ruler to measure and make sure edges are straight and parallel.
Place canvas in frame.
Keep the painting protected with glass that sits in the frame.
Searching for a frame to go with your canvas? We've got some in stock at selected sizes here.
Where Do You Find Diamond Paintings?
When looking for diamond painting supplies, you can either visit a retail arts and crafts store or buy yours online.
If you want to find a large selection of options, including a wide variety of designs, shopping online is your best bet compared to a local store. You won't be able to physically touch or open the box until it arrives, but the sheer number of designs available online more than makes up for this. Many reputable companies will have a comprehensive money-back policy that ensures your satisfaction - or you won't be a cent out of pocket! In addition, certain diamond-painting specific supplies and accessories may only be found online, from replacement diamonds to spare tools and applicators.
How should I choose where to shop?
It's also important to know what you're getting, which is why you should take a couple of steps to make sure you don't wind up with a poor experience, especially if you're just starting out.
Know the Store Policy
Be sure to check the stores' FAQs (Frequently Asked Questions) to get some idea of their Shipping and Returns policy. If you get a defective product, the cost of shipping it back may be more expensive than what it cost to buy your diamond painting in the first place! You should try to see if the store you're looking at has a robust Refunds policy that covers you for the shipping cost.
Beware of Cheap Diamond Painting Kits
If you find a cheap diamond painting kit that appears to include everything you need, the chances are it's from a low-end supplier and subsequently be low in quality. These kits could include poor quality diamonds, glue that doesn't stick, and longer shipping times (4 weeks+). And the worst part? Customer support may be non-existent, so should you have any issues, that's just going to be extra headaches.
Choosing a Diamond Painting
Regardless of your preferences, there are plenty of diamond painting designs available in a wide variety of themes. You can find anything from animals and landscapes to people and mythical creatures—anything you can imagine is available in diamond painting form.
When shopping online, you'll find the option that best suits your style.
Choosing a Size
It may be tempting to go for the smallest size to "try out" a diamond painting to see if it's for you, however the one thing you should keep in mind is that smaller sizes mean less colors and less detail in the final picture. Even if it's your first canvas, we recommend at least a small-medium size like 30x40cm (12x16 in). These don't take as long as larger canvases, but still provide beautiful details worthy of a spot on your wall!
Choosing a Diamond Shape
There are sound arguments for both sides of the Square versus Round debate. We'll give you the gist of it right here:
You should choose Square if you don't mind the extra challenge. At smaller sizes, the square base means that the diamonds fit more snugly together, leaving less chance for any gaps in the picture.
You should choose Round if you're just looking for an easy and relaxing time, without expecting to spend too much effort. While easier to do than the square counterparts, there may be tiny gaps in between each placement as the round bases allow much more leniency. Usually the printed background makes these gaps unnoticeable especially at medium and larger size canvases.
Why Diamond Painting Kits?
Diamond painting kits offer a great and unique hobby to enjoy, and are great for enjoying on your own at home, sending as an original gift idea, or enjoying as an activity at an event such as a birthday party or festival.
They take less time to complete than other similar activities such as cross-stitching, but you'll get high-quality results upon completion that you can display anywhere in the home.
Diamond painting is a great artistic hobby for anyone looking for a creative outlet. A modern twist on a paint by numbers, some would say.
If you're thinking of taking up diamond painting, check out some of our unique diamond painting kits today. We wish you the best of luck on your first diamond painting project!
The Benefits of Diamond Painting
In today's hectic world, the readiness of and sheer amount of accessible information is both a blessing and a curse. In this kind of environment, there are real physical and psychological benefits of some regular time away from all the visual clutter of LED screens, and the noise of phone notifications. People from all over the world are finding solace in Arts & Crafts to help them wind down and relax.
If you are not yet one of these people, consider that the sudden boom of Adult Coloring Books in 2015 is the strongest evidence that the modern adult is unconsciously crying out for a "digital detox". The hype around coloring books may have faded, but more adults than ever are in desperate need of the benefits that activity provided. From this perspective, we believe Diamond Paintings may achieve even more widespread adoption for these simple reasons:
- It takes much less effort to do well.
- Anyone can create amazing art they would be proud to frame on their wall (or give away as a gift).
- Subject matter of canvases are infinitely less restrictive; the sky is the limit on the varieties of pictures you can create.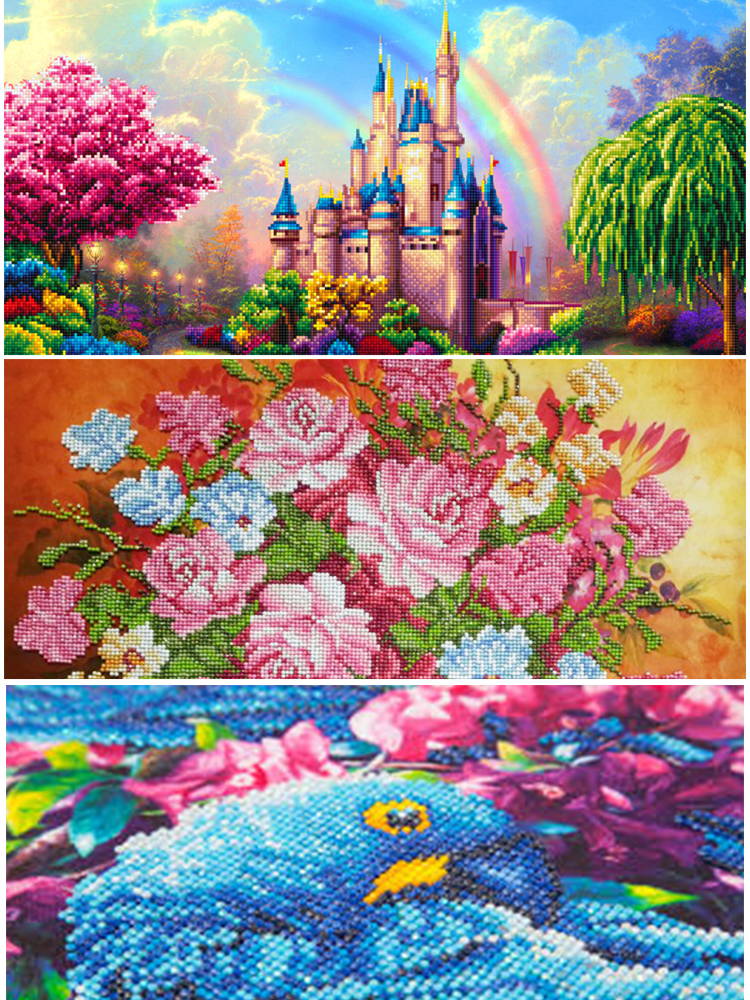 A colorful variety of completed Diamond Paintings.
Remember when Adult Coloring books started to boom? That's what we want to happen with Heartful Diamonds, and we strongly believe it has the potential to reach and sustain the same levels of interest. While the activity is easy to get into, it's still something that requires the full use of your hands and eyes. That means no getting distracted by any LED screens! Even a smaller canvas will give you 12-15 hours of relaxing "me" time, you can set aside 30 minutes to an hour each day and go as fast or slow as you wish. If you think meditation is too boring, this might just be for you! The uncomplicated, personal and solitary nature of the activity aims to renew your focus and boost self esteem with a hit of guaranteed productivity.
Or say, are you an extrovert who derives energy from being around others? Don't worry; even on smaller canvases, there's enough working space for you to collaborate with friends, family and colleagues. Work together to tackle a large canvas and smile together upon the gorgeous piece of work you'll be proud to show off on your social media feed. The point is to get away from those screens and socialise!
If you've been feeling a bit overwhelmed lately, or if you just think these pictures would look great on your wall or as a gift, there's never been a better time to give Painting with Diamonds a try.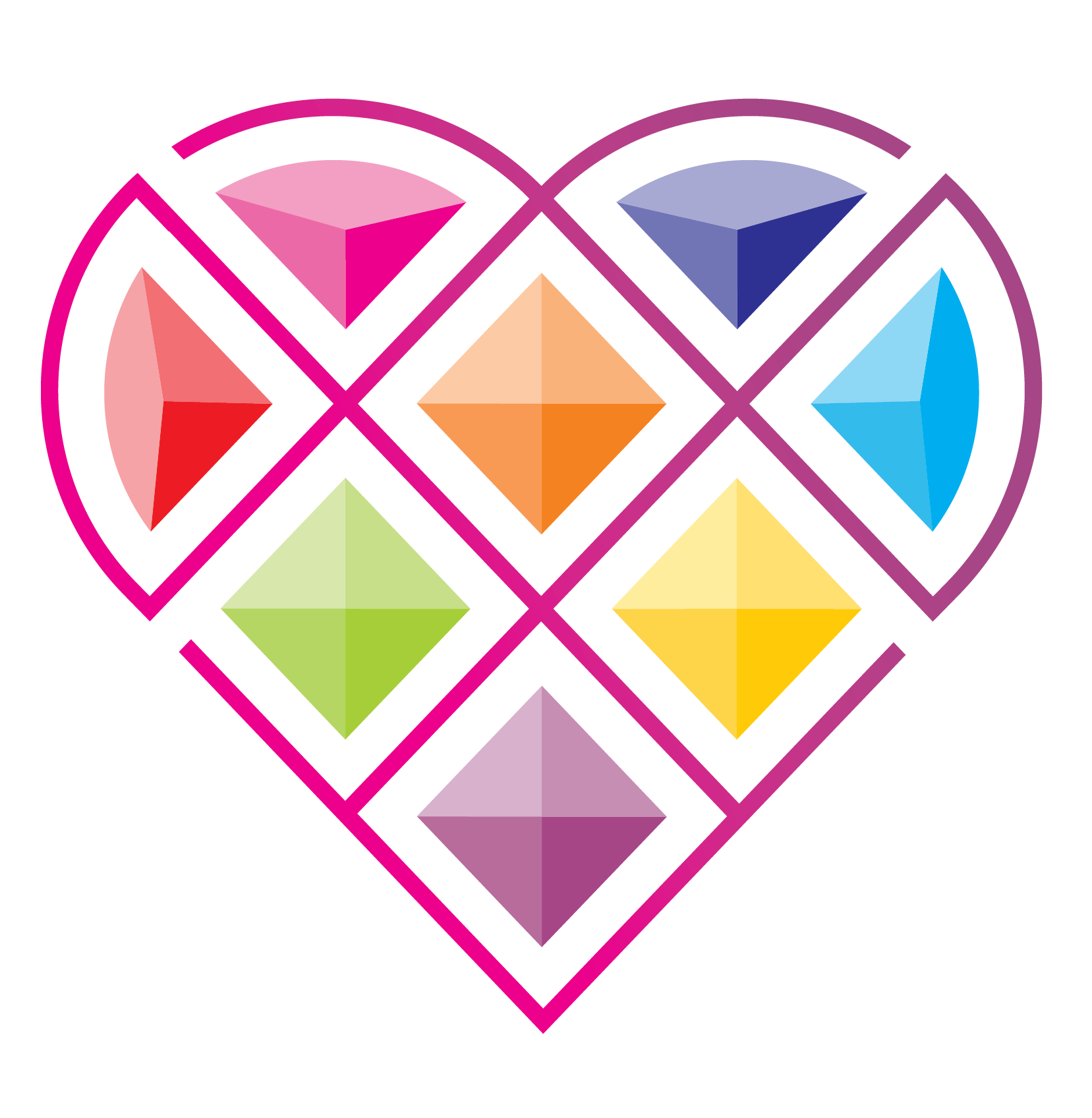 Author:
Heartful Diamonds Official
We are 100% committed to investing in the long term growth of our business and this wonderful hobby. If it's your first time buying with us and you don't find that the activity is for you, we'd be happy to offer a full refund - and we even let you keep your art.
You've got nothing to risk and everything to gain - just give it a try! Discover one of the best new hobbies of 2018 for yourself and your loved ones!